If you'd rather not watch the video, a screenshot is shown below.
Screenshot highlights
If a user is blocked, his icon will show a blocked mark.

Input the IP you want to block into the input field.

After you input a IP and click the "+" button, the IP will be added into block list.
The Block Feature
Exclusive feature to block MSN messenger in LAN.
The company doesn't allow people use MSN messenger when working. But you as an administrator find that they always use stealthily. Now MSN Sniffer can help you block MSN messenger use in your network. The blocked accounts have no way to sign in or chat in their MSN Messenger.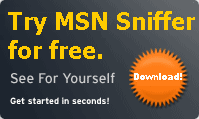 Keep up with MSN Sniffer on our EffeTech Mailing List
Subscribe to our free newsletter and receive updates on new features, announcements, and special offers. And don't worry, we're a selfish bunch: We'll never sell, disclose, or trade your email address.
Privacy Policy
|
Terms of Service
|
Questions?
| Copyright ©2006
EffeTech Sniffer
Windows, MSN and MSN Messenger are registered trademarks of Microsoft Corporation. Any other trademarks are property of their owners. This site is not affiliated in any way with Microsoft Corporation or NG.