If you'd rather not watch the video, a screenshot is shown below.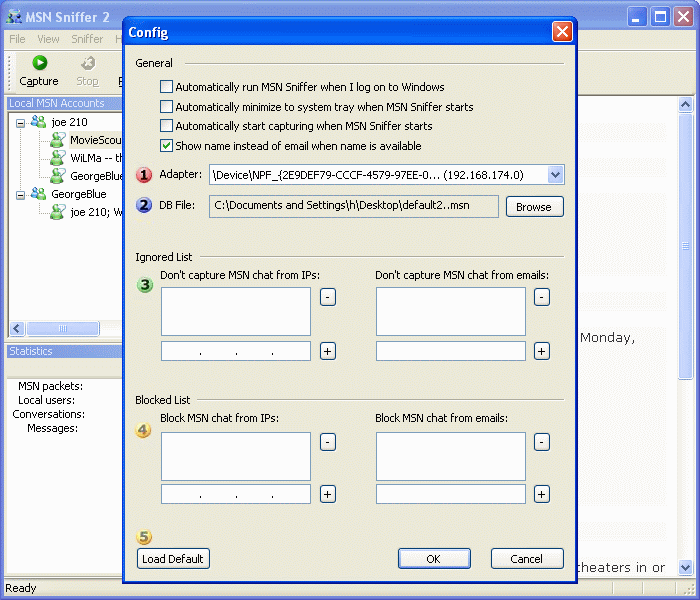 Screenshot highlights
There may be several network adapters shown in the configuration. If you don't know which is the working one, try them one by one.

All captured conversations and messages are saved into the DB file automatically. You can select a new location to hold the DB file.

A list of IPs and emails are shown here. MSN Sniffer won't capture data from them.

A list of IPs and emails are shown here. MSN Sniffer will always try to block their MSN Messenger use.

Click the button to load the default configurations.
The Configuration Window
Tell MSN Sniffer how to serve you better.
The Configuration window lets you select to how and when to start MSN Sniffer, whether show names instead of emails, change network adapter, change DB file, add IP or email into ignored list or blocked list, and load default settings.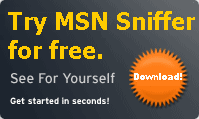 Keep up with MSN Sniffer on our EffeTech Mailing List
Subscribe to our free newsletter and receive updates on new features, announcements, and special offers. And don't worry, we're a selfish bunch: We'll never sell, disclose, or trade your email address.
Privacy Policy
|
Terms of Service
|
Questions?
| Copyright ©2006
EffeTech Sniffer
Windows, MSN and MSN Messenger are registered trademarks of Microsoft Corporation. Any other trademarks are property of their owners. This site is not affiliated in any way with Microsoft Corporation or NG.